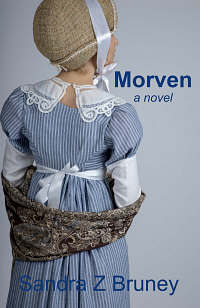 Morven's breath caught as she quickened her pace on the narrow path, aware of the lengthening shadows cast by the swaying pines overhead. She should have left town earlier, and now Mam would be worried.
When a hand caught at her wrist she froze mid-step, not daring to turn to see who had captured her. There had been many strangers in town that day, including ruffians prowling the canal banks, looking for temporary work loading the barges. She drew a breath to scream for help, hoping someone was near enough to hear her.
A drawling voice said, "In a hurry, ain't we? Sure you can't spare a minute for an old friend?"
When Morven saw who held her, her pounding heart slowed its frantic rhythm, but she still felt a need for caution. Where had he come from, so quietly that she hadn't heard his footsteps?
"Since when were you my friend, Breen Tarleton?" She stopped struggling, acknowledging his greater strength.
His eyes slid over her face and down her throat, stopped at her bosom. He licked his lips, but didn't answer.
Morven shuddered as she realized Breen must have been waiting for her. "Let me go." She swallowed. "Please."
"That's better, Morven. You be nice to me and mebbe I'll be nice to you. Mebbe I'll let you and your Ma stay in that cabin up the path awhile longer."
Morven stiffened. "Let us stay in our own home? What are you talking about?"v Breen ignored her question. "You've growed up into a pretty thing. Not a pretty little thing, but I'm a big man and I need a tall woman, tall and slender like you." His eyes made the rest of the trip down her body, stopping with an appraising look at her waist and ending at her knees, which were trembling like the long grasses that grew beside the path.
"You ain't scairt of me, are you?" His grip on her wrist increased in pressure.
Morven considered her situation. Maybe reason would work where pleas had not. Breen was an intelligent man, after all. There was talk of his political ambitions. But, although older by some eight or nine years, he was still the bully who had picked on six-year-old Morven ten years ago, she thought, helpless now as she had been then. She tried to look behind her to see if anyone was coming.
Breen laughed again, as if amused at her futile efforts.
Morven stared at him with a shudder of revulsion. He was handsome enough, she thought, with huckleberry-blue eyes set under wing-shaped dark brows and a straight, proud nose. His full lips and white teeth almost made up for the weak chin he hid behind a fledgling beard. On first glance, a well-put-together man. But when he laughed, there was something ugly in his eyes.
"Ain't no one coming. Everyone's at the dock, trying to get their cotton loaded on my barge before nightfall. That's better," he added as he noticed her resistance weaken. Only then did he release her wrist. "I've been waiting for you to come along. Time we had a talk, us two. I guess your Mam didn't tell you I'd bought your cabin." He nodded thoughtfully as he saw the fear and denial in her eyes. "Jest as I thought. She wanted to tell you herself, but she kept putting the conversation off. I figger I ain't waitin' no longer. You and me might as well get married now, and you can keep on caring for your Mam. I'll be gone downriver most of the time anyhow, and it ain't fittin' for my wife to be left alone."
"Breen." The arrogant young man didn't recognize the danger in her voice. "Wherever did you get the notion that we would be married?"
"Soon as I noticed in meetin' that you'd growed up," he said.
"First of all, I don't intend to marry anyone, not while Mam is so sick. And second, if I did, the man wouldn't be you."
"I'll ask Reverend McKinney to call out the banns next meeting day," Breen said, as if he hadn't heard a word.
"Reverend McKinney will never call the banns if I tell him I haven't agreed to them." She was unable to keep the triumph out of her voice. "You can't walk up and claim me like a horse you're thinking of buying."
"Why, Morven, I did buy you. I bought you when I bought your Mam's house." He said the words so pleasantly that Morven was taken by surprise when his hand snaked out and grabbed her arm. This time, the grip was in anger, not in play, and Morven realized the difference immediately.
"You're mine, whether you want to be or not, and the sooner you realize it the better." His blue eyes darkened, narrowed. He pulled her to him and pressed his mouth to hers, not in fondness but in ownership.
She struggled, but she was no match for the larger, stronger man. Nauseated by his foul breath and the rank odor of his body, she held back a strong urge to vomit.
Breen released her so roughly that she staggered. "I've got to go," he said ungraciously. "We're near loaded and ready to head downriver. I'll be gone a month, as I have business in Charleston to take care of. We'll talk again when I get back, and you'd better have spent the time sewing your wedding gown." Glaring, he jammed his boatman's cap over his blond hair and strutted off down the path, hands in his pockets, shoulders hunched forward.
Morven watched him go, rubbing the palms of her hands over her lips to erase the taste of him. A month. A lot could happen in a month. She would talk to Mam, persuade her to tell her the truth, and go from there. Maybe she hadn't spent the money yet, and they could buy the cabin back. Surely they weren't that needy.
Breen must have misunderstood. Mam would never have agreed to this marriage. Morven knew that as surely as she knew her own heart beat in her breast. The whole situation was a terrible misunderstanding, and Mam would put it right.
She shuddered, then whirled about and stumbled up the path, her breath coming in gasps. Her body felt cold, although her cheeks burned. She hoped to lead up to the sale of the cabin and the betrothal gradually, after being sure Mam was strong enough for the conversation, which she planned to be reasonable and free of recrimination. She had to set a mood that led to confidences between mother and daughter, not a scene. Morven had spent her life avoiding scenes, for Mary did not take them well. If this meant holding any unpleasantness inside, hiding any hurt or sickness, that's the way life was. She blinked in the sunlight as she left the stand of pines behind and entered the meadow that rolled like a carpet to the cabin door. She saw daisies nodding on slender, leafy stems and pinched a few free to form a bouquet. Sometimes flowers made Mam smile.
She smoothed her skirt and forced a smile to her own lips. "Mam," she called out on entering the doorway.
Hearing no answer, Morven parted the curtain that separated their living quarters from the bedroom she shared with her mother. Mary McAllister lay on the featherbed, but the coverlet did not rise and fall with her breathing.
Morven dropped the flowers on the plank floor and stepped back, her hand over her mouth. "Oh, Mam," she whispered, as if afraid a scream might awaken the peaceful sleeper.
***
Mary McAllister was buried in the small village cemetery the next day. Slabs of dark gray granite were chiseled with the names and dates of the births and deaths of Sneydsborough's gentry, but her stone would be an unmarked, rough piece of granite taken from some farmer's field. However, Morven would never forget the date: September 5, 1809.
Following the simple Methodist service, led by the pastor, Isaiah McKinney, Morven returned to the McKinney's home on Church Street. The structure was a little smaller, a little shabbier than the others, for it would not do to have a pastor's house be grander than his neighbors'. However, the house was welcoming with white-painted columns and a profusion of flowers -- larkspur, snapdragons and primroses, all grown from seeds and cuttings transported carefully from Patience McKinney's home in Scotland. They were beginning to fade in the September heat, a hint that summer was almost over.
"You will stay with us, dearie, until you decide what to do," Patience said as they entered the house. "Now sit here, and I'll get Annie to bring us a cup of tea. Then we'll have a little talk."
Patience fussed with the steaming pot and cups promptly delivered by the McKinney's cook, a thin, morose woman who didn't believe a dish was done until it was thoroughly black on the bottom.
While she waited, Morven looked around. She had been here before, of course, but never for very long. Mam hadn't been much for calling on other ladies. The little room, furnished in the modern Federal style, boasted a doorway topped by an elaborately carved fan. The chair and table legs were decorated with chiseled festoons imitating folded drapery. The room would have been intimidating, but one table held an abandoned book and a plate bereft of all but crumbs, and a basket of mending waited on a nearby chair. These items made clear that the house was both loved and lived in. Morven drew a finger along the arm of her chair, and then placed her hands quietly in her lap as she had been taught.
The McKinneys had raised four daughters and two sons in their six-room house. The girls were now married, and both youths were away at school in Virginia. The smaller bedroom was where Morven had slept the night before, or had tried to sleep. The unfamiliar sounds of town life had kept her awake: the crow of a cock, the shouts of friends leaving a tavern, a housewife's scolding.
Patience handed her a cup and saucer. Her head was tipped to one side in concern.
"Are you certain you'll not accept Breen Tarleton's proposal then?" she asked, the tiny frown between her eyes expressing her bewilderment. "Marriage would be the best thing, dearie. You'd get to stay in your familiar wee house, and he'd take good care of you. I canna understand why you won't even discuss it."
Morven fought down the sour taste of bile at the mention of Breen's name. "I don't love him," she said with a calmness that belied the fury in her breast whenever she thought of Breen's foul breath against her face, the bruise on her arm that was concealed by her sleeve. Was the assault only three days ago?
"Love! Why, I didn't love Mr. McKinney on my wedding day, either. I hardly knew him. But my father said it was a good match, and my mother was delighted I'd be marrying a man with a university education. Love didn't come until our first daughter, Hannah, was born. When I saw him in her lovely, wee face."
How could she make this small, plump woman understand how cruel Breen could be? "Please," she begged, "I can't marry him. Isn't the way he deceived my mother into selling him our land reason enough?"
"I'm sure he paid a fair price," Patience McKinney sniffed, pouring a second cup of tea for herself. "Isaiah will take the cart to your—the cabin in the morning and bring back your belongings. You knew the furniture went with the sale? And the household goods?"
"The bed. The cupboard. The table and two chairs," Morven counted on her fingers. "Not my mother's bride chest, which comes to me. And her sewing basket, and the featherbed."
"I'll tell him to bring the featherbed and quilts. And the chest."
"And Mam's clothes," Morven said. They would be too small for her, but Morven could salvage the material, the buttons and the lace trim.
"I'm sure Breen won't want those things," Patience McKinney said softly.
"And her Bible."
"Of course."
"Oh! And my father's musket and bullet molds."
Patience looked taken aback at this. "Whatever would you want them for?"
Morven looked at the older woman and started to explain that she had often put meat on the table for herself and Mam with that very musket, but decided she had shocked the woman enough. "It is all I have to remind me of a father I never met," she said, hoping to engage Mrs. McKinney's sympathy.
After a pause, the older woman asked, "Are you sure you don't want to go yourself?"
"No. I can't step a foot into the place, knowing the cabin belongs to him," Morven said, knowing she sounded ungrateful and sullen, and unable to help herself.
"Well, then." The two sat in silence until Morven made a movement as if she might get to her feet. Patience hastily forestalled her.
"As to the future … you can stay here for awhile, of course, but with the boys away at university we have expenses …"
"Don't worry, my dear Mrs. McKinney, I plan to support myself."
"Yes, yes, but doing what, exactly?" said a new voice. Isaiah McKinney had entered the room without the women noticing, and now he stood before the fireplace, rubbing his hands together to relieve the cramp writing always gave him.
"Mam earned her living as a seamstress and she taught me all she knew. In fact, I've been doing most of the sewing since she fell sick," Morven answered him. "If anyone noticed, they haven't complained. I'm sure her customers will come to me."
"She was a widow with a child and a home, which admittedly she sold without your knowledge. Nevertheless, what's done is done. You are a young girl with nowhere to live, and since you refuse to marry, you will have to board with a family and earn your keep." Isaiah wiped his forehead with a large linen cloth he pulled from his waistcoat pocket. "Perhaps someone needs a nurse—you've had experience there."
"No more sick people," Morven said firmly. "I have buried my one and only patient."
"What do you want to do then?" the reverend asked in despair.
I want things to be what they were only three days ago. She shook her head wearily. It was time to stop arguing. Aware that her next words would decide her future, she said in a subdued voice, "Beggars can't be choosers. If setting up as a seamstress isn't possible, I'll be pleased to accept any other occupation you can find for me. As long as the work doesn't involve sick folks or small children. I know nothing about child-caring."
There was a silence, broken only by a fly bumbling against the windowpane, seeking a way out.
To her horror, Morven felt a tear creep down her cheek. She brushed at the tell-tale moisture angrily.
"My poor child," said Patience. Even Isaiah's stern features softened.
"I wish Mam had told me," Morven cried out. "About selling the cabin." Her face lit with hope. "Breen might have been lying to trick me into marrying him."
"I am very sorry, Morven, but I witnessed Mary's signature on the deed, and acted as her proxy when it was registered in the Wadesborough courthouse. And I watched Breen count out the money into your mother's hand." He shook his head and one thin, gray strand of hair slipped across his balding crown. "At the time, it seemed a good thing" At the flash in her eyes, he held up a defensive hand. "Your mother had given her permission, after all."
"Without consulting me," Morven said bitterly.
"That is the old way."
"And this is a new country. Women aren't sold like cattle any more. And anyway—" A new thought struck her. "What did Mam do with the money? You said you saw Breen count the coins out."
"I suggested she put the money in the bank, but she refused. She said she had a use for it."
"But what, I wonder?" Morven's brows drew together in a puzzled frown.
"I dinna know. Your mother could be secretive, when she wanted to be."
"Such as waiting until I was gone to market to sign all the papers giving away my inheritance," Morven said. "And to promise me in marriage to a man I loathe."
"Don't, child." Patience's small hand patted Morven's shoulder. "Your mother was only thinking of your future. She must have known—"
Morven slumped. Against all reason, she had thought that because the money had not been in Mary's bride chest, which Morven had plundered while looking for something in which to bury her, maybe Breen had only promised to pay. That would make the sale void now that Mary was dead. She hadn't realized how much she wanted to go home until Reverend McKinney's affirmation. She looked up at him, a plea in her face.
"I know you don't want to go to the cabin now that it's no longer yours," he said with an understanding nod. "But I promise, when I go to fetch your possessions tomorrow, I will search high and low. She must have hidden the money somewhere."
"Or buried it in the garden," cried Patience with a burst of romanticism.
"Mam couldn't get out of bed long enough to dig a hole," Morven objected. "The money must be in the cabin. Oh, please, Reverend McKinney, do look. It has to be somewhere!"
"I will, child. But—what if she had already put her plan, whatever it was, into practice? Unless someone steps forward, we may never know how she invested her gold."
The smell of charred meat came through the open back door, carried by an errant breeze from the kitchen, a small building behind the house.
"Annie is preparing supper." Patience said in a resigned tone that showed she had no high hopes for the coming meal.
Morven leaped to her feet as if released by tightly-wound spring. "I must go for a walk," she said. "My head is buzzing."
"Take your bonnet and shawl, dearie, and be back in a half hour," Patience called after her. "And, my dear child, do try to walk like a lady."
Morven's answer to this request was to slam the door behind her. She was immediately ashamed, and tied the ribbons of her straw bonnet with shaking fingers. If Reverend McKinney found the gold coins, she would somehow persuade Breen to take them and give her the deed to the cabin in exchange. Then she would insist on living there, alone or not. She was old enough to take care of herself. She'd been taking care of herself and Mam since she could wash a dish or sweep the floor.
The problem was, she didn't know what she would do if the money wasn't found. Her furious pace took her out of the village to the road that led to Colonel Johnson's grist mill. Shortly after the war for independence, the Colonel had founded Sneydsborough with his friend, Richard Edgeworth, on Edgeworth's plantation, Ashton. Edgeworth had died shortly after the General Assembly granted the town's charter, and his wife and three small sons had returned to her mother's home in South Carolina.
There was a story about that, too, Morven recalled. Colonel Johnson and other men of importance had written to Elisabeth Edgeworth's father-in-law, a man of some property in Ireland, in hopes that he would recognize the American marriage and help the widow financially, or at least help with the boys' education. But he had refused.
Morven tossed her head as she sat on a mossy rock by the side of the millstream. She would rather die than write to her mother's family for help. Their long silence was proof enough that they didn't care. She couldn't remember when Mam had stopped inquiring at the inn for any message from home.
The happy gurgle of the stream and the slow, mesmerizing motion of the millwheel gradually wove their spell. Morven's breathing slowed, and her cheeks regained their normal color. She drew her knees to her chin and contemplated the placid water from where a pair of white ducks regarded her with suspicion. They dived abruptly, reappearing long seconds later on the opposite side of the pond, twisting their necks as if to ask if she had seen and admired their agility.
The Reverend McKinney was right about her needing to find work, if not a husband. Over the years, Mam had sold off the land her husband had purchased piece by piece, keeping only the cabin and the meadow that surrounded it. Morven had to earn a living, and she had to do so in a ladylike manner. How this was to be accomplished was a riddle.
The sun traced a long, golden path across the water. Morven jumped up, suddenly aware of the passage of time. Inside the mill, the huge grinding wheels screeched to a halt as the miller closed his business for the day, no doubt more than ready to head for home and a hot supper.
It was time for her to do the same. Except, she wasn't going home, and supper held no appeal. With slow steps, she walked back to town. Mrs. Patience had told her to trust in God. Morven thought God hadn't been doing a very good job so far.
She opened the door and stepped inside the house. Patience McKinney looked up from her chair and beckoned her forward, her worried expression replaced by determination.
Morven knew then that her fate had been decided.