I'm a North Carolina writer fulfilling a life-long dream to see my words in print. It's been a long journey, and it isn't over yet! I write about women -- their hopes, their disappointments, their happy-ever-afters. My heroines are strong women who only need to recognize their potential and my heroes are men who are strong enough in their own right not to be intimidated.
Whether in contemporary or historical setting, or even in a purely imaginary world, my heroines seek and find meaning to their lives and discover love along the way.

Here is my latest book, published in October, 2018:
"When He Said Goodbye"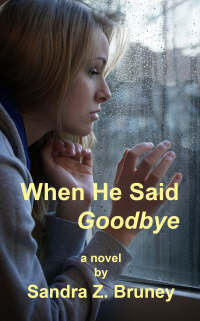 Church organist Marcie Wicker is the only person, including the police, who doesn't believe her husband, Stan, is sunning himself on a tropical beach somewhere after withdrawing every cent from their joint savings account. She refuses her father's advice to seek a divorce and her mother's advice to move on, and grieves that her college-age twins are letting their anger sully the memory of their father.
With the arrival of the new pastor, Adam Shepherd, Marcie realizes that she is ready to love again, but as neither wife nor widow, she is torn between accepting that Stan left her or stubbornly clinging to her belief that he has come to harm. Adam, divorced, is struggling with regaining the confidence of his rebellious 13-year-old daughter and wonders if he is ready for another relationship.
Will Marcie and Adam's faith be enough bring healing to their fractured families?
Available on Amazon in print and Kindle and in any e-reader format at Smashwords.